First referred to in the 8th Century, the parish of Rodborough comprises of the area between the River Frome and the Nailsworth stream which meet at Dudbridge.
Most growth over the centuries has concentrated along the River Frome and the Nailsworth stream where Mills were built to take advantage of the water power. The Nailsworth to Dudbridge road (now the A46), wasn't built until 1780.
Historically significant, is the development along the still unspecified road which runs across Rodborough Common and down Rodborough hill. This formed part of an ancient highway to Cirencester and London. It was by this route that cloth was exported from Stroud to and from London. The cloth travelled up from the mills in wagons, up Walkley Hill and on to the Bear of Rodborough.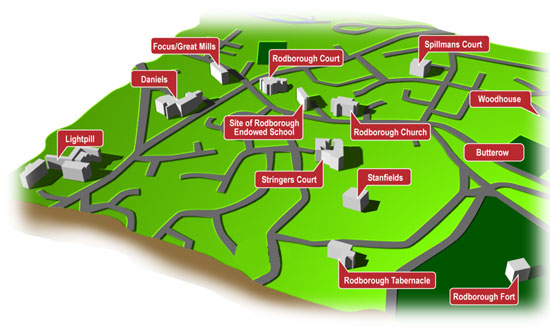 From January 2016, this website is managed by Stroud Local

History Society