"Muddy place"; this is the meaning of "La Stroude" as it was first referred to in 1221. The name described the marshy meeting place of the River Frome and the Slad Brook. Yet from this humble beginning, Stroud's growth was inextricably linked to the waterways that ran through it and powered its mills.
We know that Stroud was a market town in the 1500s, and that this was held where the Shambles is now and extended along the High Street up to the top, known as The Cross. In the seventeenth and eighteenth centuries, the chief Inn was called the George and it was located on the South side of the High Street. The George was host to meetings of magistrates, the parish vestry, clothiers and canal promoters. It was also the terminus of London Coaches as well as the place for balls, concerts and assemblies.
Not surprising then that in 1714, Stroud was described as "the metropolitan town...for clothing trade" and later, in 1757, as "a sort of capital of the clothing villages".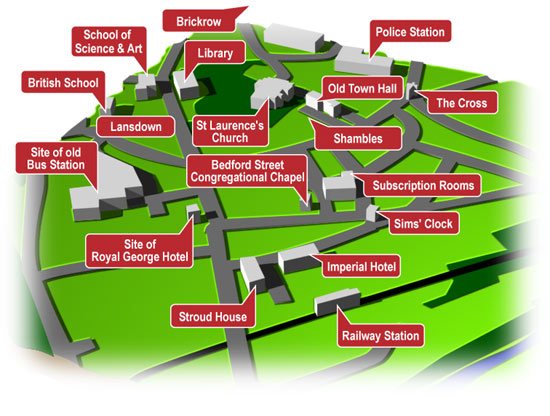 From January 2016, this website is managed by Stroud Local

History Society