Pubs, pews, and pumps.... all significant in the development of this area also known as the Trinity area.
As the source of much of Stroud's water there were many wells and later pumps built here; notably, the public well at the Cross and Hemlock's Well of Lower Street, which was in use by 1618.
Throughout the 1600s and 1700s, the area grew in inhabitants and many stone cottages were built along the main thoroughfares. Consequently, there are a number of recorded pubs, which grew up around this time; the Horse Shoes; the Red Lion and the Duke of York (all in Nelson Street), to name but a few!
Interestingly, churches and chapels also sprang up all over the area inviting the growing inhabitants to worship with a variety of denominational congregations.
Although much of the area today is the result of development in the 1900s, many of the old buildings, still intact, are some of the most picturesque in Stroud.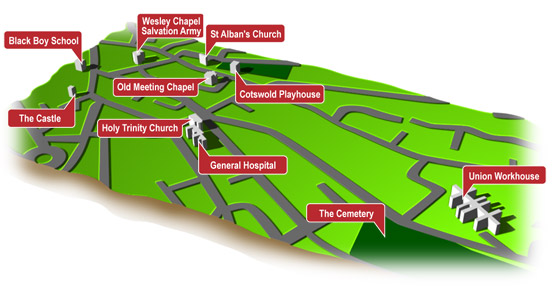 From January 2016, this website is managed by Stroud Local

History Society